Power Bridges; what are they and why do you need one?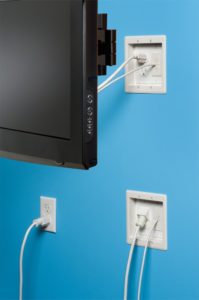 If you want that "wire free" look for your new TV it's often easier said than done. A lot goes into one of our Premium TV Installation packages, that's why we lead the country in home theater installation. When our installers arrive at your home they'll discuss where you want your TV and explain what they need to do to make that happen. If you ordered our Premium package it includes  your various cables that feed your TV signal, however we can't fish your power cable in the wall. Until recently you're only options were to have an electrician come out for hundreds of dollars and add an outlet behind your TV or you would have an exposed power cable. Having all of your other cables hidden and leaving the power cord visible really defeats the purpose of ordering a premium package.   There is always the third option of running an extension cord in the wall. TVInstallation.com does not recommend running an extension cord in the wall and it's not a very safe way to save a few bucks.
Fortunately there is an inexpensive and elegant solution; a power bridge. Power bridges gained popularity a few years ago, around the time TV prices dropped. Flat screens were quickly becoming a staple in every home. The cost of installing those cheap TVs quickly followed and one very expensive item- the electrical outlet was eliminated.   A power bridge is essentially an electrical outlet extension. It uses Romex cable (the same cable used for your home's electrical wiring), however it does not wire into an electrical circuit. There are two pieces to a power bridge, the bottom, that plugs into an electrical outlet the way any three prong device would, and the other end is at the TV with what appears to be an electrical outlet, your TV plugs into this. The two are connected via the Romex cable provided in the kit. This way the proper cable is in your wall and you have a device that just plugs into an outlet. It's a consumer grade device so it does not need an electrician to install it.
Another great feature to the power bridge is they are just as easily removed. When you have an outlet installed behind your TV and decide to remove the TV, you need to have an electrician back to remove the outlet. With the power bridge it just needs to be unplugged from the outlet then removed, (if you ever do need a TV removed, call our office, we can make sure it's done as quickly and clean as possible).
If you already have a TV Installed without a power bridge, they can still be added, if you're ordering one of our installation packages, the power bridge is only $119, including installation and shipping. Call 866-550-HDTV (4388) to have the wire free look your TV deserves!